Topcrop Hamster & Gerbil Mix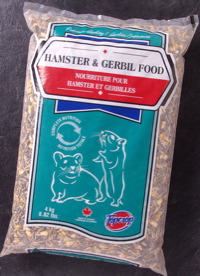 Feeding Instructions:
Topcrop Hamster and Gerbil Food has been formulated as a 100% complete and balanced diet for all adult Hamsters and Gerbils. Your pet should be fed free choice, that is access to food at all times, from a clean, dry bowl that is either in the cage or in a "through the wall" feeder that can be filled from outside the pet's home. Always maintain a fresh supply of water that is accessible continuously. Should your pet's food become contaminated with urine, droppings or water, discard the soiled food, wash out and dry the dish and replace with a fresh supply. Although supplementation is not necessary, you may want to occasionally give your Hamster or Gerbil a treat, such as a seed stick or one of many other prepared treats on the market.
Tips on Hamster and Gerbil Care:
In their natural habitat Hamsters and Gerbils like to burrow and chew, so the environment you provide should accommodate this as much as possible. Clean your pets cage out on a regular basis so the it always has fresh bedding. When taking your animal out of its habitat for any reason, never leave it unattended, as rodents that get loose may suffer serious consequences from incidents that stem from leaving them unsupervised when not securely in their home. Grass clippings and other leafy materials not intended for human consumption may contain pesticides and should not be fed to your pet as they may have a detrimental effect on it's health.
Available in 2kg, 4kg, 10kg & 40lb bags
Ingredients
Corn, Oats, Small Animal Pellets (which contain Corn and/or Barley, and/or Oat Hulls, and/or Wheat by-products, and/or Canola Meal, and/or Soybean Meal, Molasses, Dehydrated Alfalfa, Calcium Lignisol Sulphate (a binding agent), Salt, Calcium carbonate, DL-Methionine, Vitamin A, Calcium iodate, Vitamin D3, Manganous oxide, Vitamin E, Sodium selenite, Pantothenic acid, Copper Sulfate, Folic acid, Zinc oxide, Niacin, Ferrous sulfate, Thiamine mononitrate, Pyridoxine hydrochloride, Vitamin B12, Biotin, Riboflavin, Menadione) Sunflower Seed, Wheat, Mineral Oil.
Analysis
Crude Protein

11.0% min

Crude Fat

4.8% min

Crude Fibre

7.0% min

Moisture

10.0% MAX


Other Small Animal Products: