Striped Sunflower Seed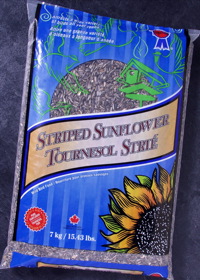 Topcrop brand striped sunflower is the ideal choice for attracting a full range of wild birds to your feeder. Striped sunflower is preferred by birds over many other seeds. This is a premium product so there is less waste at your feeder, plus you will attract more desirable birds, such as Blue Jays, Cardinals, Nuthatches, Chickadees, Grosbeaks, Tufted Titmouse, and American Goldfinch.
This product is intended for feeding wild birds. Not for human consumption, or feeding to domestic birds.
Available in: 7 kg, 13 kg & 50 lb bags
For all pricing, please use your login under "Catalog Manager". If you don't have a login, or forget your username/password, please call the office
Ingredients
Striped sunflower
Analysis
Crude Protein

15% min

Crude Fat

20% min

Crude Fibre

30% MAX

Moisture

12% MAX


Other Wildbird Products: