Millworks-Premium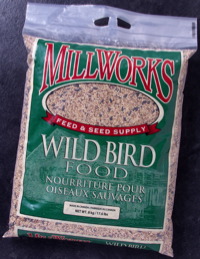 Millworks Brand Wild Bird products are the ideal choice for attracting a full range of wild birds to your feeder. We offer many different formulas and types of products, but no matter which one you have chosen, you will find only the best ingredients, hand selected to attract more of the more desirable birds, such as Blue Jays, Cardinals, Nuthatches, Chickadees, American Goldfinches and Grosbeaks.
For all pricing, please use your login under "Catalog Manager". If you don't have a login, or forget your username/password, please call the office
Available in: 8 kg & 16 kg bags
Ingredients
Black oil sunflower, red milo, peanuts (no shell), white millet.
Other Wildbird Products: